Sports Medicine and Rehab Therapies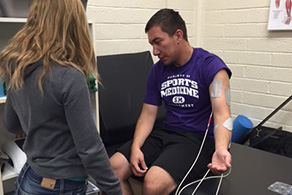 The Sports Medicine program prepares students to pursue work as a fitness trainer or go on to earn an advanced degree in athletic training, wellness, kinesiology, or physical therapy at a four-year university. Students who complete their program through the EAC could earn national certification as an ACE personal fitness trainer or test for certifications as a physical therapy aide or massage therapist.
Where Do Sports Medicine Graduates Work?
Students who complete our sports medicine track may find work in fitness clubs as a class instructor or personal trainer, within the athletics department of a school district or community recreation program, or at a rehabilitation unit.
Class Offerings
We proudly offer the following courses from Eastern Arizona College. For additional information about individual courses, please review the EAC's academic catalog or speak with your guidance counselor. (Most course info is on pages 162–163.)